Customer References
Here are just a couple of our customers:
Read more...
| | | | |
| --- | --- | --- | --- |
| Bible Cloud | | | |
Wednesday, 26 January 2011 17:38
Get a new insight to the Holy Bible with Bible Cloud iPhone application.

What are the most prominent words of the Genesis? Of Exodus? Of Revelation?
What about the most prominent word of chapter 13 of the Revelation? That is not so surprising.

But what is the most prominent word of chapter 21 of Joshua? Or Psalm 136? Or Ecclesiastes chapter 3?


Features:
Word cloud of each chapter of each Bible book in: Five Books, Historical Books, Wisdom Books, Major Prophets, Minor Prophets, Canonical Gospels, Apostolic History, Pauline Epistles, General Epistles and Apocalypse.
Easy to use study tool.
Word clouds generated King James Version of the Holy Bible.
Includes 39 Old Testament books and 27 New Testament books: Genesis, Exodus, Matthew, Mark, Revelation, and many others.
Over a thousand high quality, zoomable word cloud images.
Review from the USA App Store:
Heavenly! - ★★★★★

This app presents word clouds - weighted-font, color-coded word "maps" - one for the Bible as a whole, and then for its individual segments down to the chapter level in the full app. It is a fascinating "new" way to immerse oneself in the world of the Bible and to meditate on God's Word in this digital age. Yet the classic experience of entering a glowing "cloud of words" to meet God in the heavens is more ancient than the illuminated scrolls of antiquity and the sages who contemplated them. Once the privileged world of prophets and mystic seers, now we can all go there too.

Free Bible Cloud Online and Bible Cloud: Sampler are also available.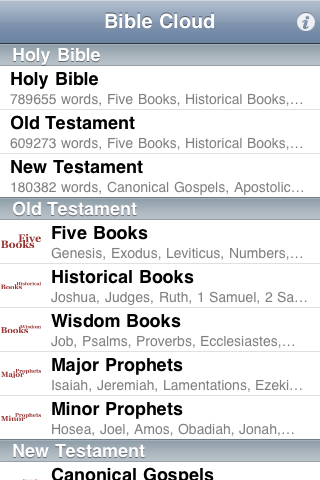 Last Updated on Sunday, 12 June 2011 18:55