LicenseTexts is an easy reference for many Open Source and Creative Commons license texts. For each license, there's a word cloud that shows prominent words of the license.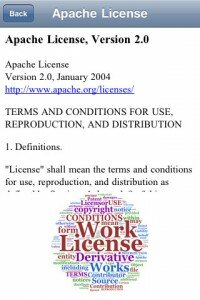 Features
- Over 80 licenses.
- Alphabetical list of licenses.
- Categorized list of licenses.
- Open Source licenses including Apache License, Eclipse Public License and GNU General Public License.
- Creative Commons licenses: Attribution, Attribution-ShareAlike and others.
- Word cloud for each license.
CCLicenses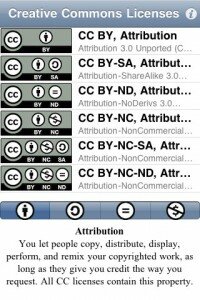 An easy reference for Creative Commons licenses.
Features:
- All six Creative Commons licenses: BY, BY-SA, BY-ND, BY-NC, BY-NC-SA and BY-NC-ND
- Includes "human readable" license deed.
- Includes legal text.
- Includes word clouds for both deed and license text.
LicenseTexts (0.99USD)

CCLicenses (free)